Upcoming Fundraising Events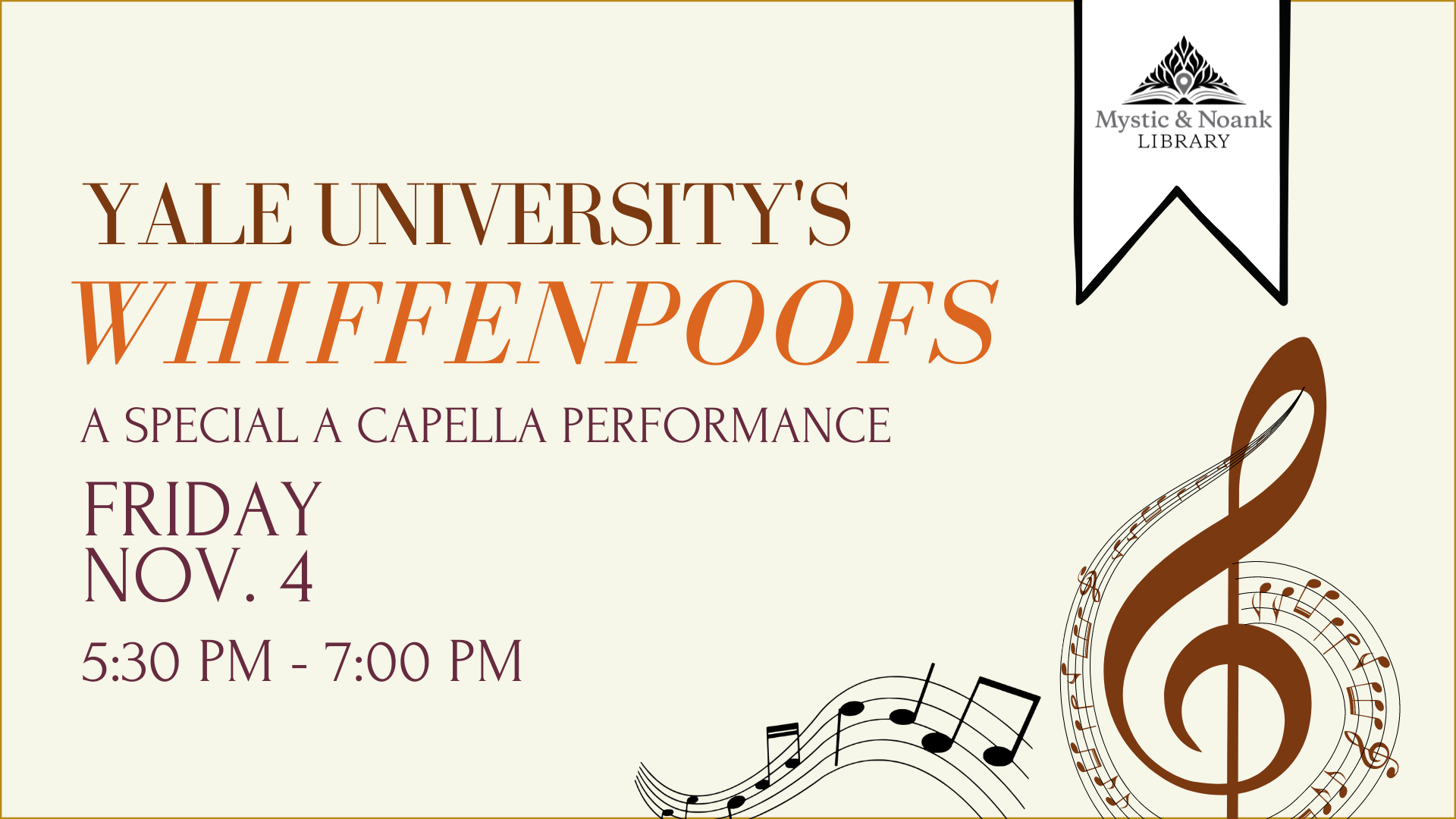 A Capella Singing in Our 1893 Library
Friday, November 4 from 5:30 PM  -  7:00 PM
We are thrilled to welcome the Whiffenpoofs once again for this exclusive after-hours concert. The Whiffenpoofs will be singing in the enchanting atmosphere of the Spicer Reading Room on the second floor of the Mystic & Noank Library.
Assorted wines and hot tea from Lamplighter will be served starting at 5:30. At 6:00 the Whiffenpoofs will begin their performance.
The goal of this event is to raise money to support the Mystic & Noank Library. Each year, the library must raise roughly one-third of its operating costs from private sources. Each year, patrons like you and sponsors make it possible. Thank you so much for your support!
Charter Oak Credit Union Matching Donations
Charter Oak Credit Union will match all qualified* charitable donations YOU make between Friday, August 19, 2022 and Saturday, November 26, 2022 or until our 2022 Matching Gifts funding limit is met.
Charter Oak Credit Union committed to giving back to charitable entities within our field of membership, as well as charities elsewhere that are meaningful to Charter Oak Credit Union members.
It's simple – Charter Oak Credit Union gives back because it is part of the foundation from which credit unions were built on… people helping people – and Charter Oak Credit Union is proud to offer members the opportunity to maximize their charitable donations through the Matching Gifts Program.
We hope Charter Oak Credit Union's program will inspire you to make a donation to your favorite 501(c)(3) charity, so they will in turn be able to further their meaningful mission to positively impact the world we live in. Donations must be at least $25 and will be matched in increments of $25. Charter Oak  will match up to a maximum of $500 per member.
INSTRUCTIONS
For the Charter Oak Credit Union Member:
Review

the guidelines

.

Select a 501(c)(3) charity.

Make a donation and complete the

Matching Gifts Member Request Form

. Send the donation and the form to the charity.
Learn more on Charter Oak Credit Union's website here!